Dynamic Aviation operates a state-of-the-art Heavy Maintenance and Modification Center, a wide range of backshops, and a privately owned Airpark at our headquarters in Bridgewater, Virginia. With 8 hangars, 6 office buildings, and 5 warehouses, our expansive facility spans over 400,000 square feet across 700 acres. This extensive infrastructure is designed to facilitate the efficient and effective delivery of our services. From maintenance and modifications to comprehensive support, our robust infrastructure ensures exceptional service quality and timely project completion. Experience the advantage of our comprehensive facilities by partnering with Dynamic Aviation today.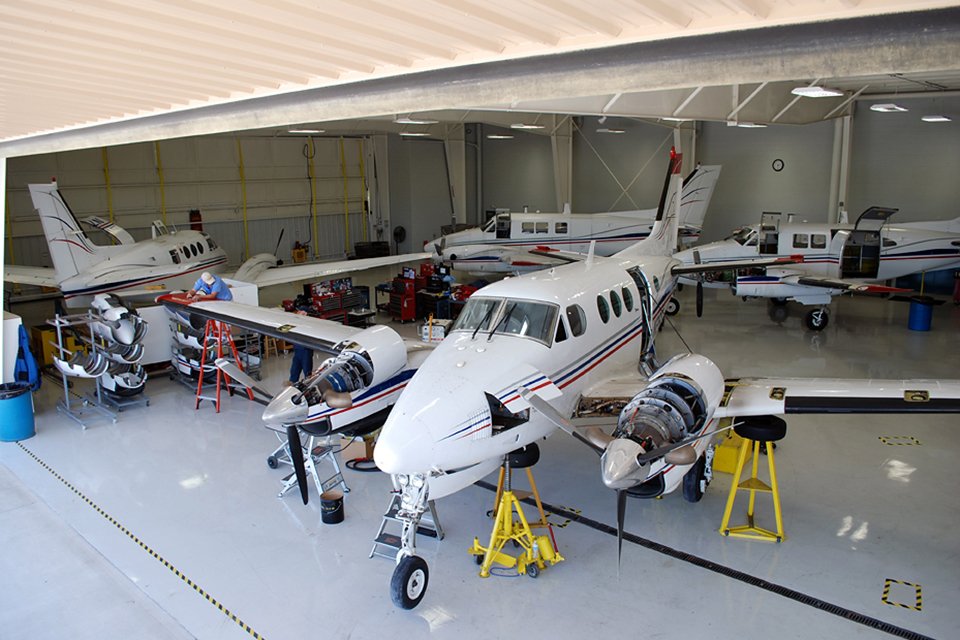 Technical Operations Center
Our maintenance and modification center has more than 400,000 square feet of hangar, office, shop, and production space including advanced welding, sheet metal, avionics, and machine shops. We also have a PT6 engine shop and one of the world's largest inventories of Beechcraft King Air parts. With Depo level maintenance capability for King Airs and Dash 8s, Dynamic Aviation can rebuild aircraft to suit our customer's needs. By being self-sustaining and managing several disciplines in harmony, we can accelerate modifications, decrease customer costs, and rapidly return aircraft to service.
Dynamic Aviation's 14 CFR Part 145 Repair Station holds Limited Airframe, Limited Instrument, Limited Radio, Limited Powerplant, Limited Landing Gear Components, Limited Accessories, and Limited Non Destructive Inspecting, Testing, and Processing ratings as well as over 200 employees on the roster. The Repair Station is AS9100:2016 & ISO9001:2015 Certified with DCMA APT Approved Ground Operating Procedures.
Worldwide Operations
In addition to our campus in Virginia, we support global activities with geographically dispersed offices, storage facilities, and maintenance operations. We operate domestically from several locations in the United States and internationally from facilities in Canada, Central America, Europe, the Middle East, and Southwest Asia.