48,000 + hours of Aerial Application experience
Dynamic Aviation is your premier choice for environmentally conscious aerial application services. With our extensive fleet, rapid response capabilities, and expertise in designing and integrating specialized spray systems, we set ourselves apart from the competition.
Precision and efficiency are paramount in aerial application. Our experienced team delivers exceptional results with on-target services. We optimize resource usage and minimize waste, achieving the highest level of efficacy in every operation.
Safety and reliability are our top priorities. Our aircraft undergo rigorous maintenance and inspections, adhering to strict safety protocols. You can trust us to handle your aerial application needs with utmost care.
We customize our services to meet your project requirements. Our experts work closely with you to design tailored solutions that maximize efficiency and effectiveness. Whether it's crop dusting, pest control, or environmental management, we deliver exceptional results.
Trust the industry leader for environmentally conscious, safe, reliable, and efficient aerial application services. Contact us today to discuss your project needs and experience the difference our expertise can make. Let's elevate your aerial application services to new heights.
Mosquito and vector control.
Combatting Mosquitoes and Vector-Borne Diseases
Dynamic Aviation is your trusted partner when it comes to aerial solutions for mosquito and vector-borne disease control. We understand the critical importance of swift and effective measures to combat the spread of diseases such as the deadly West Nile virus. With our expertise in aviation, aerial application systems, and the management of pesticides and hazardous materials, we deliver safe and innovative solutions to control mosquito populations.
When it comes to mosquito control, time is of the essence. Our team is equipped with the knowledge, experience, and resources to respond rapidly to post-hurricane infestations and other urgent situations. We understand the unique challenges associated with vector-borne diseases and are committed to providing effective solutions that protect public health.
At Dynamic Aviation, safety is our top priority. Our stringent safety protocols and comprehensive training programs ensure that our operations meet the highest standards of safety and compliance. We have extensive experience in managing pesticides and other hazardous materials, ensuring that our mosquito-control solutions are not only effective but also environmentally responsible.
We take pride in our ability to provide innovative and customized mosquito-control solutions. Our expertise in aviation and aerial application systems allows us to deliver precise and targeted spraying operations, minimizing the impact on non-target organisms and the surrounding ecosystem. We stay up-to-date with the latest advancements in mosquito control techniques, enabling us to provide you with the most effective and efficient solutions available.
Night Vision Capable
Our pilots utilize night vision goggles and other technologies so we can safely spray mosquitos at dusk to achieve the highest efficiency rate.
Precise Application Technology
We offer the latest in aerial application technology, including a proprietary computer-controlled auto-flow system designed and built by Dynamic Aviation, which helps ensure the accurate distribution of product.
Contingency Contracts
As part of our ongoing readiness program, we offer on-call aerial application contract to jurisdictions around the nation. Numerous mosquito abatement districts have selected these contracts, which guarantee the availability of aircraft and spray systems when needed.
At The Forefront of Combating The Threat of Rabies
Dynamic Aviation has been a leading force in oral rabies vaccination programs since 2003. With a strong commitment to protecting the well-being of wildlife, livestock, pets, and humans, we have dropped millions of packets of rabies vaccines over the years. Our efforts are driven by the goal of preventing the deadly virus from spreading and safeguarding communities.
Through our specialized aerial operations, we ensure the efficient and precise distribution of vaccines to wildlife populations. By vaccinating wildlife, we create a vital barrier that shields domestic animals and humans from potential exposure to rabies. Our dedicated team, equipped with state-of-the-art technology and extensive expertise, executes these vaccination campaigns with unwavering precision.
At Dynamic Aviation, we understand the significant impact that rabies can have on both economic and public health fronts. By actively engaging in these oral vaccination programs, we contribute to the overall well-being of communities, promoting the safety of livestock, pets, and individuals alike.
With our commitment to innovation and continuous improvement, we stay at the forefront of rabies prevention strategies. Through close collaboration with government agencies, research institutions, and local communities, we aim to achieve optimal results in our vaccination campaigns.
Join us in our mission to combat the threat of rabies and protect lives. Contact Dynamic Aviation today to learn more about our oral rabies vaccination programs and how you can support our efforts. Together, we can make a lasting impact in preventing the spread of this deadly virus.
Geared For the Mission
Our King Air twin-engine turboprop aircraft are ideal for the low-altitude flying required for oral rabies vaccination missions. We also have a specialized flight guidance system to ensure the precise distribution of the vaccine.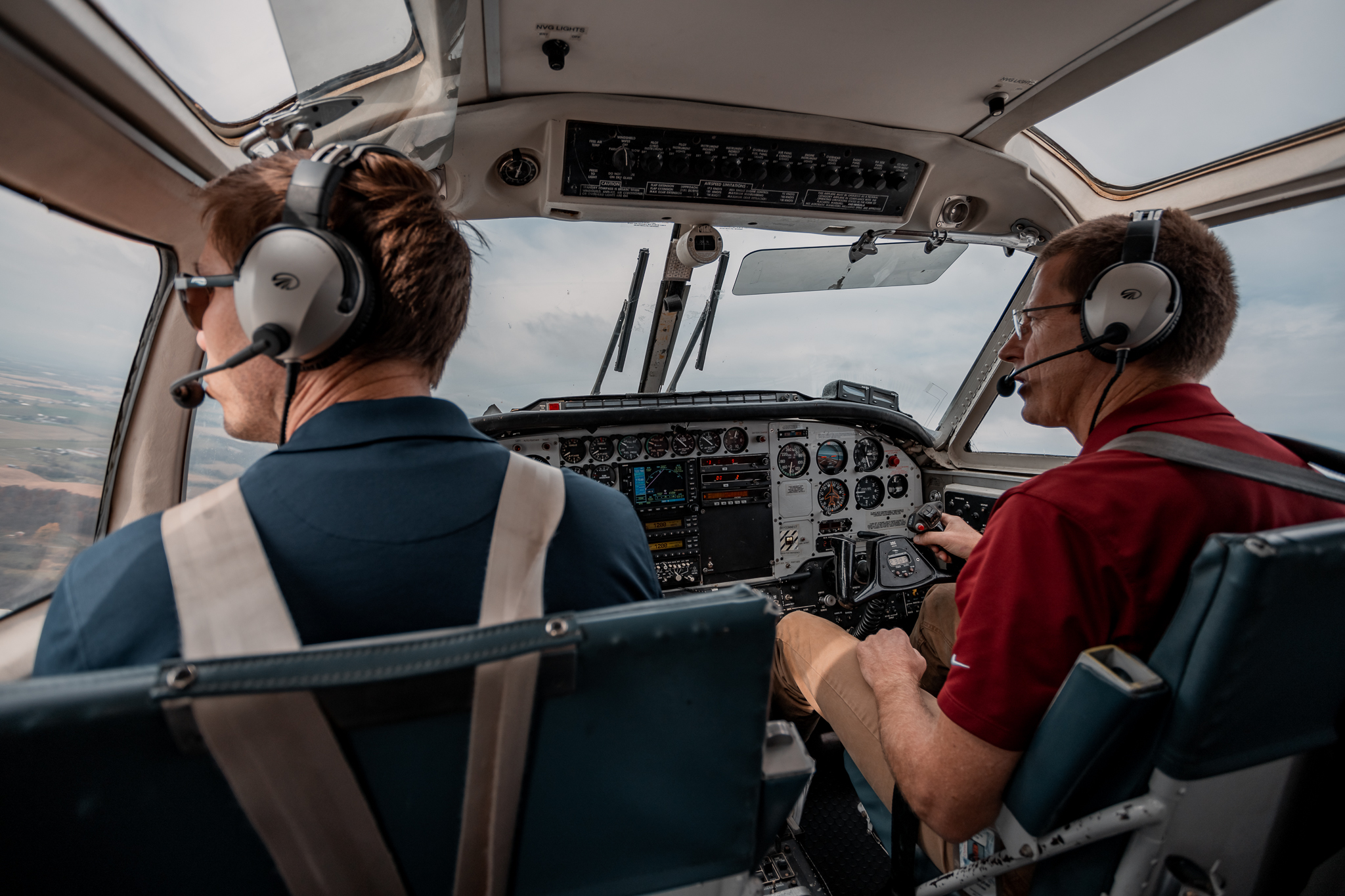 Innovations In Bait Dispersal
Dynamic Aviation designs, manufactures, and gets approval for the bait dispersal systems needed for airdropping rabies vaccines. Currently on our third generation, we are continually modifying and developing systems to accommodate new and different types of bait packets.
High Performance Team
Our seasoned pilots are highly skilled in aerial application missions, and our technicians and service personnel support our operations with expert maintenance and repairs. Our experienced and disciplined operations management ensures on-time and on-budget operations